Top Things To Do In Galle When Traveling To Sri Lanka
By Katie May
Galle is a must-visit tourist hub and Sri Lanka's most charming city. It is a fortified city that offers a wealth of attractions that you simply can't afford to miss. From the beautiful locales that you can spend hours admiring and exploring, to the pristine beaches, quaint streets, trendy cafes, serene pagodas, and museums, Galle has something for everyone. Whether you're a history buff or a nature lover, there are plenty of fun things to do in Galle. With its undeniable charm, the city is sure to capture your heart. So why not explore this magnificent city in detail?
In this article, Sri Lanka Immigration Services will introduce you to the list of things to do in Galle Sri Lanka. Take a closer look at what this captivating city has to offer during your visit.
Experience The Best Of Galle: Top Things To Do
1. Visit Galle Fort Lighthouse
Visit Galle Fort Lighthouse should be added to the list of things to do in Galle Sri Lanka. It stands as a symbol of the town, surrounded by palm trees and the mesmerizing blue ocean. This picturesque view is often featured on postcards, brochures, and advertisements, attracting tourists to the captivating shores of Sri Lanka. Many visitors, both tourists, and locals, flock to the Galle Fort not only for its historical significance but also for the vibrant atmosphere inside the fort. The lively shops, cafes, museums, villas, and lifestyle shops add to the charm of the monument and enhance your experience. You can explore all of these attractions on foot, as the fort is always open and admission is free of charge.
Scenic view at the White Lighthouse in Galle Fort in Sri Lanka 
2. Stroll around the National Museum of Galle
The Galle National Museum, which opened to the public on March 31, 1986, is situated in the oldest Dutch building of the Galle Fortress, which was built in 1656. This museum showcases a collection of archaeological and anthropological artifacts discovered in the southern region. It highlights Sri Lanka's cultural heritage, which has been influenced by the Portuguese, Chinese, and Dutch cultures. The museum exhibits an extensive range of traditional items, such as furniture, weapons, tortoiseshell artifacts, ebony, ivory, melamine and bronze, lace, figurines, and gilded life-size statues of the Chinese Admiral Zheng He and Faxian.
Read more:
3. Enjoy some cliff diving at the Flag Rock
Cliff diving at the Flag Rock in Galle is an exhilarating activity that offers a unique experience for thrill-seekers. Located at the southernmost end of Galle Fort, the Flag Rock was once a Portuguese bastion and is now one of the most popular places in Galle to catch the sunset and watch cliff divers in action. With its stunning views and impressive jumps, cliff diving at Flag Rock is a must-try for those seeking an unforgettable adventure during their visit to Galle.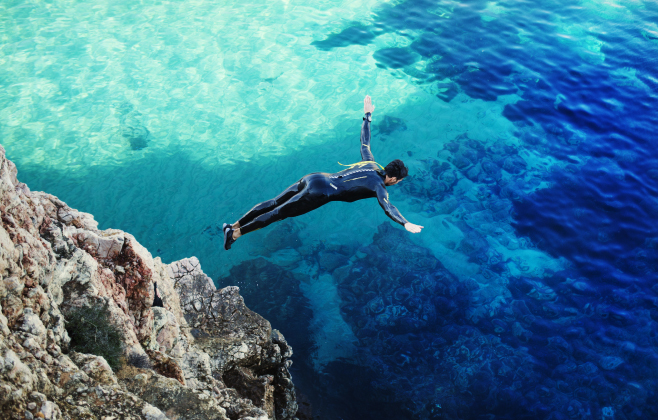 Enjoy some cliff diving at the Flag Rock 
4. Try traditional stilt fishing by yourself
Stilt Fishing is one of the top things to do in Galle, Sri Lanka. It's a unique and traditional style of fishing that has been practiced by Sri Lankan fishermen for generations. The practice involves standing on a wooden pole, which is planted in shallow waters along the coast. It is an art that requires balance, patience, and skill. The activity is not only a means of livelihood for local fishermen but has also become a popular tourist attraction in Sri Lanka, offering visitors to Galle a chance to witness this fascinating technique up close and capture some amazing photographs.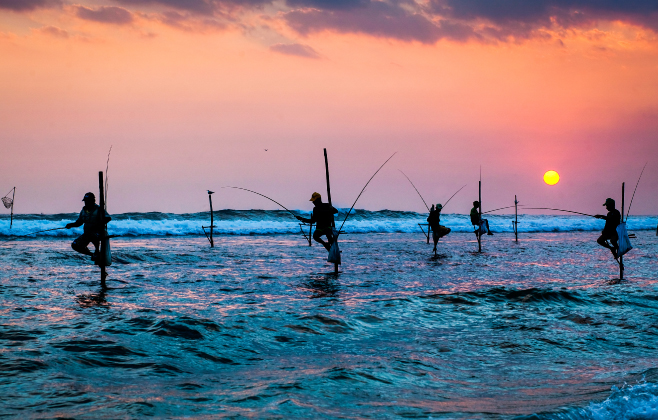 Fishermen on the stilts in silhouette at sunset in Sri Lanka
5. Watching whales on Mirissa Beach
Mirissa Beach is a stunning destination that offers a plethora of activities such as surfing, snorkeling, delicious dining options, and the chance to witness whales and dolphins in their natural habitat. Whale watching in Galle Sri Lanka is particularly popular in Mirissa, with a variety of whale species, including blue whales, the largest animal on earth. Visitors can also spot dolphins and sea turtles during these tours, which are conducted by experienced operators with different package options available. Witnessing these magnificent sea creatures is an unforgettable experience and a must-do activity in Mirissa.
6. Visit the Sea Turtle Hatchery Centre
If you're looking for a unique and heartwarming experience in Galle, then a visit to the Sea Turtle Hatchery Centre is a must. This family-run conservation center is dedicated to rescuing turtles in danger of losing their lives to fishing industries, and visitors can witness firsthand the incredible work being done to protect these majestic creatures. The center features tanks for injured and newly-hatched turtles and is currently home to 40 turtles of four different species. Additionally, visitors can enjoy guided tours of the farms and incubation centers, making it an educational and rewarding experience for all ages.
A visit to the Sea Turtle Hatchery Centre is a must when coming to Galle 
7. Discover the wonders of scuba diving in Galle
One of the top activities to participate in while in Galle is scuba diving, a popular water sport in Sri Lanka. This exhilarating experience involves using specialized oxygen equipment to dive into the sea and observe marine life in its natural habitat. The peaceful underwater environment is a calming and almost meditative experience. Unawatuna is one of the best locations in Galle for scuba diving and is only a short 10-minute drive from the city center. Various diving schools offer a range of courses, from beginner levels like open water diving and refresh courses to more advanced courses such as reef and night diving.
Galle Travel Guide For First-Time Travelers
Where is Galle located?
Nestled on the idyllic southwest coast of Sri Lanka, is the enchanting city of Galle - a favorite destination that attracts visitors from all over. With rich historical significance, Galle is an iconic coastal paradise that you must experience. Not only that, Galle is also the administrative capital located in the south of Sri Lanka, once known as Gimhathiththa before the Portuguese arrived in the 16th century when it acted as the main port of the island. The origin of Galle's current name has always been a subject of much curiosity, with two intriguing theories being circulated by locals and tourists alike.
What is Galle famous for?
Galle is known for its Portuguese-inspired architecture, including the impressive Galle Fort, a UNESCO World Heritage Site, as well as countless other beautiful attractions to explore. Escape the hustle and bustle of everyday life and immerse yourself in the peace of Galle - a charming city that offers the ultimate getaway. Tourists will be amazed at the beautiful colonial fortress of this land. Besides, visitors also have the opportunity to bask in the beauty of the beautiful beaches and watch the iconic lighthouse towering in the serene sky. Galle Fort is sure to take you back in time, with quaint streets evoking a sense of nostalgia that will warm your heart
When is the best time to visit Galle in Sri Lanka?
The best time to travel to Galle is between December to April, as there is little rain, so it is relatively dry during these months. This is based on a number of factors, such as the weather, the cost of flights and accommodation, peak travel periods, and more.
The best time to travel to Galle in Sri Lanka
In conclusion, life in Galle seems to slow down when you see locals playing cricket along the beach, tourists walking on the old fortress walls, and street vendors under the palm trees. Galle's history has made it a melting pot of cultures, with its unique mix of European and Asian influences reflected in the Dutch-style whitewashed buildings that line the walls. cobbled streets. Come and enjoy all the beautiful things to do in Galle Fort, Sri Lanka. 
Before applying for a Sri Lanka e-visa, it is crucial to verify if your nationality complies with the requirements. If you have any queries or uncertainties about the e-visa application process, feel free to contact Sri Lanka Immigration Services for guidance.
HOW CAN WE HELP?
APPLY WITH CONFIDENCE
Safety, Fastest, Reliable, Save Time.
Secure Online Payment.
3 Working Days Guarantee.
No Hidden Fees and No Traps.
Money Back Guarantee if Declined.