Top 15 famous Souvenirs and Gifts to pick in Sri Lanka (Part 1)
By Jenna Jolie
Sri Lanka is a shopper's paradise. It's always enjoyable to bring home souvenirs from your travels. There's something wonderful about obtaining your own unique mementos from your treks, in addition to photographs and video clips!
Souvenirs are more than simply items; they are the ideal method to keep track of and reflect on all of your trips. From the abundance of souvenirs available, we've developed a list of famous souvenirs and gifts to pick up in Sri Lanka for travel lovers to begin.
Best Famous Souvenirs and Gifts to pick in Sri Lanka
Let's investigate the list below to go through top famous Souvenirs and Gifts to pick in Sri Lanka
1. Gems & Jewelry
Because of this, Sri Lanka, a gem-mining nation with an impressive portfolio of excavated jewels, is known as Gem Island.
Ratnapura, a mining town, offers rare stones by the tonne, including rubies, topazes, amethysts, and aquamarines, which are popular among visitors. Not to mention the popular blue sapphires and moonstones from the nation.
Most tourist locations, such as Unawatuna and Kandy, are heavily filled with big and small gem shops, where gems can be purchased. In a lot of museums, you portray the mining process. Despite the fact that Sri Lanka is home to the world's biggest sapphires, don't be afraid to take your pick.
Gemstones – Most popular Sri Lankan Souvenirs
2. Ceylon Tea
Ceylon tea is the island nation's lifeline, and tea stores can be found all over the place. Luxury and unique teas include Golden Tips, Silver Tips, and Flowery Broken Orange Pekoe Fannings. Infusions include teas flavored with cinnamon, dried fruits, herbal mixtures, and local spices. When your tea supply is depleted, the caddies may be reused.
Note that, Mackwoods, Teaeli, and Dilmah Tea are just a few of the well-known brands that are frequently popular.
Ceylon Tea as Souvenir to buy
3. Porcelain Tableware
Porcelain is an expensive and well-known commodity in China and Japan. However, many of these are created in Sri Lanka, and some are reasonably priced. You may purchase teacups, plates, utensils, or anything you choose. 
There are also a variety of styles to pick from, including simple and elaborately decorated options. There is something here for everyone.
You might opt to completely refurbish your kitchen or only purchase a few things. You may also buy it for your friends and family, who will adore it! Odel in Colombo is the greatest place to buy porcelain things, although you may also locate them elsewhere.
Fine Porcelain from Sri Lanka
4. Cinnamon Sticks
Sri Lanka is well-known for growing a variety of spices. This country, in particular, is one of the world's top cinnamon exporters. As a result, don't miss the cinnamon sticks, which are rolled like fragile sheets and given back as gifts for family members, cooking as seasonings. Aside from cinnamon sticks, you may also get cinnamon powder.
Cinnamon Sticks – Gourmet Souvenir from Sri Lanka
5. Wooden Masks
A vital component of Sri Lankan folklore and a vibrant part of the island's cultural character. Local artisans in this seaside village use their delicate hands to bring a simple wood to life and make fascinating masks with detailed characteristics. 
Popular devil masks, formerly exclusively seen in traditional dances, have grown into exquisite pieces of art. Hand-carved wooden masks that were formerly used to ward off evil are now only utilized to enhance traditional rites and dances.
The greatest place to find a wide variety of these masks is Colombo's Laksala.
Colorful Wooden Masks – Sri Lanka
6. Dumbara Mats & Cane Boxes
Dumbara is a rough cloth that is handwoven in and around Kandy's villages. These are often woven in geometrical designs with the colors white, black, and red. It is used to make long-lasting items including rugs, mats, bags, baskets, and even wallets.
If you enjoy handcrafted stuff, you will adore these Dumbara offerings. Locals use these things for house décor as well, and you can get some for yourself, your family, and friends. Dumbara items can be found in a variety of locations. If you enjoy a lot of variety and options, try Laksala and Barefoot in Colombo.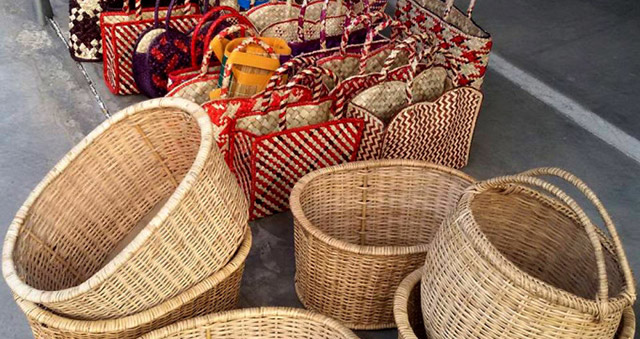 Cane Curios as Sri Lanka Souvenirs
7. Sri Lankan Sari
A sari is an essential item on every Sri Lankan souvenir list. Some people identify saris with India, although saris worn in Sri Lanka differ somewhat from those worn in India. Sri Lankan saris come in a variety of colors and, in my opinion, are far more comfortable to wear. You may go to a store and ask a lady how to put it on.
You may be thinking if you would ever wear a sari in your own country. Most likely not. However, this should not deter you from purchasing the gorgeous Sri Lankan saris. Lanka Silks in Sigiriya and Odel in Colombo are the finest places to buy saris.
If you appreciate having a lot of alternatives, you may explore the Kandy City Centre for more.
Sri Lankan woman in Sri Lankan Sari
Shopping in Sri Lanka is an unforgettable experience. With so many wonderful things to buy, you may become overwhelmed. Hope our advice for buying some of the famous souvenirs and gifts from Sri Lanka is useful and meaningful for your trip. 
By just selecting our Sri Lanka e- Visa services, you may begin collecting the first item for your collection. Take a look ASAP! 
HOW CAN WE HELP?
APPLY WITH CONFIDENCE
Safety, Fastest, Reliable, Save Time.
Secure Online Payment.
3 Working Days Guarantee.
No Hidden Fees and No Traps.
Money Back Guarantee if Declined.