Essential things to know before traveling to Sri Lanka
By Jenna Jolie
From the verdant hill country to the palm-fringed coast, Sri Lanka is packed with history, culture, animals, food, and activities. It's no surprise that Sri Lanka has become one of the world's hottest destinations, as well as the most sought-after in Asia. Although it's convenient to claim that this tiny island off the coast of India has something to offer everyone, the truth is that it is packed with sights, beaches, and scenery that will keep you occupied for days.
Tourists should be aware of a few essential things in order to have a beneficial and hassle-free journey to Sri Lanka. It is important to check things to know before traveling to Sri Lanka, like what the most effective mode of transportation is to Sri Lanka, where to stay in Sri Lanka, and whether or not it is a safe location to visit.
Things to know before visiting Sri Lanka for wonderful vacations
The island nation of Sri Lanka is a stunning, exotic location brimming with culture, the outdoors, animals, and kind people. This island has some of the most hospitable people you will ever meet, especially for a nation with such a long history. In terms of geography, characteristics, culture, landscape, and customs, Sri Lanka, which is situated halfway between India and Southeast Asia, is not quite like either Asia or India.
First time visiting Sri Lanka? Read on to learn about important things to know before visiting Sri Lanka to help you plan a memorable vacation.
Vaccine regulations
As a tropical destination, Sri Lanka is prone to making visitors ill. So make sure you're completely immunized before traveling by seeing your doctor. Vaccinations against polio, diphtheria, tetanus, hepatitis A, and tetanus are strongly recommended for international visitors to Sri Lanka. Long-stay visitors may also think about getting typhoid and rabies shots (although rare, rabies can be fatal and is transmitted by dogs, cats, and monkeys in Sri Lanka).
The COVID outbreak situation has recently spread around the world. The mandatory COVID vaccine requirement resulted from that. If you arrive in Sri Lanka with a negative PCR test result 72 hours before your trip or a negative RAT test count (self-swabs are not allowed) 48 hours before your trip. For instance, you will no longer need to be quarantined if you are unvaccinated or not completely vaccinated. Therefore, travelers have to be aware of things to know before going to Sri Lanka, including that they have received their full vaccinations and are allowed to board planes to Sri Lanka without isolation or PCR/antigen testing .Insurance is no longer required, but it is better to have Travel Insurance to protect your benefits in case of unexpected risks.
Sri Lanka vaccination rules
Additionally, medicine is well-prepared when traveling Sri Lanka.The economic crisis has resulted in a shortage of food, cooking gas, and fuel there. Things to know before visiting Sri Lanka include the medications that really should be brought. Travelers who require certain medical supplies should prepare carefully because they might not be able to buy the required medications in Sri Lanka. Hospitals are open, and in private hospitals, the wait time to see a general practitioner is short.
Applying for a Sri Lanka visa prior to your trips
Applying for a visa is one of the most important things to know before visiting Sri Lanka. Nowadays, Sri Lanka accepts online visa applications from eligible nations. Travelers should check visa requirements to view the list of documentation required to apply for a visa to Sri Lanka. The Sri Lanka tourist eVisa is now valid for six months from the issued date with double entry, and travelers can stay in the country for up to 30 days.
You should carefully examine all visa-related documents because they act as your identification when you wish to enter Sri Lanka. Sri Lanka Immigration Services will give you all the information you require regarding the Sri Lankan Visa, as well as instructions on how to easily and quickly apply for an eVisa.
For more information about how to apply for a Sri Lanka eVisa, please visit the Sri Lanka Immigration Services website.
Sri Lanka Visa for foreign visitors
Currency exchange
Currency exchange is necessary before having a trip to Sri Lanka. When arriving in Sri Lanka, do not stock up on rupees beforehand, and only exchange what you absolutely need. You should note that prices for goods and services have increased as a result of the currency's depreciation, but the dollar amount is roughly unchanged. In order to have some cash on hand as a visitor, you can exchange foreign currency at the airport once you arrive.
Sri Lankan rupees are a closed currency. Outside of Sri Lanka, you won't find a good price for them. Therefore, it is best to exchange your money when you arrive in Sri Lanka. You will need to exchange money in Sri Lanka if you are traveling there. Your best and first choice would be to change money at the airport. For example, at Bandaranaike International Airport, where the majority of international flights land, banks and currency exchange desks are open twenty-four hours a day.
Outside of Sri Lanka, it is difficult to exchange Sri Lankan rupees. ATMs are widely available throughout the nation; if at all possible, utilize a Ceylon Bank ATM as they have no service costs. Larger hotels, eateries, and shops catering to tourists frequently use card machines. To pay for tuk-tuk rides and purchases from grocery stores and markets, you'll need cash on hand in small bills. Bring some cash, preferably in dollars, euros, or pounds, as these are all commonly accepted in tourist areas.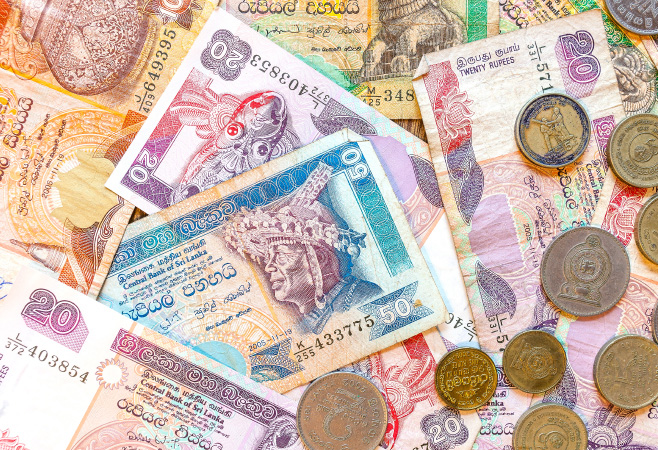 Sri Lanka currency exchange
Transportation
To have a wonderful experience, you should be aware of the advantages and disadvantages of each type of vehicle before traveling to Sri Lanka. The least expensive modes of transportation are almost always public ones like buses and trains. Knowing the different types of transportation is important because it can help you save time and money. Buses will take you wherever you want to go in the country.
If taking public transportation, the train in Sri Lanka is a considerably more pleasurable experience than the bus. Inexpensive and frequently a lovely way to take in the landscape, trains are a great option for transportation. The seating is very comfortable and can be reserved weeks in advance. Buses, on the other hand, are unquestionably inexpensive, but drivers frequently operate them in an unsafe manner. Buses are moreover frequently crowded with passengers, both standing and seated. Tuk-tuks are a well-liked option for traveling short distances, but make sure to choose a metered vehicle or negotiate a price before boarding as drivers frequently raise prices to defraud passengers.
Sri Lanka transportation for foreign visitors
The most beautiful places are the answer of things to know before traveling Sri Lanka
Sri Lanka offers an abundance of options for tourist attractions. Travelers find themselves taking it easy on endless beaches, traveling by train, enjoying delicious cuisine, mingling with welcoming locals, and exploring spectacular temples and ruins. Sri Lanka is very attractive - not just to beach bums!
Checklist of must-visit places in Sri Lanka to get the most memorable vacation in this country. Some of the well-known landmarks listed below may help you learn about things to know before traveling Sri Lanka.
The most beautiful places in Sri Lanka
Pinnawala Elephant Orphanage
It takes 3 hours to drive from Colombia. Visitors can have a once-in-a-lifetime opportunity to observe newborn elephants playing here.
From Colombia, it is a 5-hour drive. Climb the slopes at night for stunning dawn sunrises that will stay in visitors' minds for years. The stunning vistas from Adams Peaks, a biodiversity hotspot and UNESCO World Heritage Site, are difficult to match.
By automobile or train, it takes 3–4 hours from Colombo. One of Sri Lanka's most captivating beach getaways is the little village of Mirissa, where you may spend your weekend relaxing in the sun while whale watching.
From Colombo, it is located four hours away via automobile.
For those interested in Ayurveda and Yoga, Sri Lanka is a popular destination. Great yoga studios can be found in Ulpotha Village, allowing you to practice in the midst of the natural world.
Car travel from Colombo takes four hours.
Probably one of Sri Lanka's most breathtaking vistas. At the magnificent Sigiriya Rock Fort, you may roam around historic ruins, remarkable frescoes, and water gardens.
To ensure that your vacation is safe, great, and fantastic, you should also think about whether there are any suitable times and places to travel abroad at this time. You should also have a backup plan for unforeseen circumstances. We hope some notes can help you have a fantastic trip in Sri Lanka. Please contact us if you require any additional information about the Sri Lanka Visa Services.
HOW CAN WE HELP?
APPLY WITH CONFIDENCE
Safety, Fastest, Reliable, Save Time.
Secure Online Payment.
3 Working Days Guarantee.
No Hidden Fees and No Traps.
Money Back Guarantee if Declined.