Discover the Best Time to Visit Sri Lanka: A Guide to the Weather
By Jenna Jolie
Sri Lanka's weather is known for its mild year-round temperatures in all parts of the island. Capital is a small country, but its travel experiences offer visitors many interesting and surprising things. The following are essential things to take care of about Sri Lanka's weather when preparing to travel to this beautiful island nation:
1. What is the weather like in Sri Lanka?
Sri Lanka's weather is not only divided by preferences but also by temperature differences due to topography.
Weather in Sri Lanka
What is the monthly weather like in Sri Lanka?
Spring Weather: January to March
Spring is always a wonderful time to enjoy Sri Lanka, from the cool breeze of fresh grass in the air to the gentle rays of sunlight through each leaf. You can travel anywhere in this beautiful country of Sri Lanka. If you want to experience pleasant and warm temperatures, you are invited to Hill Country. As for the sunny and slightly hotter days, you can go to the south and west coasts.
Gentle early summer days
MAY – JUNE
Although it only impacts the southwest region of the nation, including Colombo and Galle, the southwest monsoon blows through May and June. It is also the milder of the two monsoons that Sri Lanka encounters, with most rains being brief and sharp and passing swiftly.
JUNE TO  SEPTEMBER
This time of year is considered "inter-monsoon," which means that with the exception of the occasional shower, the weather is excellent. The average national temperature is still high across the nation at roughly 29°C, and the beaches are scorching and dry. A fantastic choice for families seeking a tropical summer vacation, and all in all, a fantastic time to go.
AUGUST - NOVEMBER
The northeast monsoon, which blows in October and November, is the more intense of Sri Lanka's two monsoons. Although the name may suggest that this monsoon just affects the northeast, in reality, the entire country gets affected. This year's monsoon may be stronger, lighter, or more intermittent than in previous years, and it may perhaps never arrive.
DECEMBER
Sri Lanka weather often experiences hot, dry weather in December, making it an ideal destination for a holiday or winter vacation. It is important to note that while monsoon rains have occasionally continued into December in previous years, they typically stop before the end of the month. The seasonal rains have the advantage of helping to restore the lush green landscapes, which makes vacationing in Sri Lanka a special time to visit the rural areas.
Monthly weather in Sri Lanka
2. What is the best time of the year to travel to Sri Lanka?
The best time to visit Sri Lanka depends on your personal preferences and the activities you plan to do during your trip. However, here are some general recommendations:
December to March: This is the peak tourist season, with warm and dry weather, making it ideal for beach activities and wildlife sightings.
April to September: This is the low season, with monsoon rains affecting the west and southwestern parts of the country, but it is an excellent time to visit the hill country, which remains relatively dry.
October to November: This is the transition period between the monsoon and dry seasons. This can be a good time to visit as the rains have subsided, but the crowds have yet to arrive.
Ultimately, the best time to visit Sri Lanka will depend on what you want to see and do during your trip, and it is always a good idea to check the local weather forecast before you travel.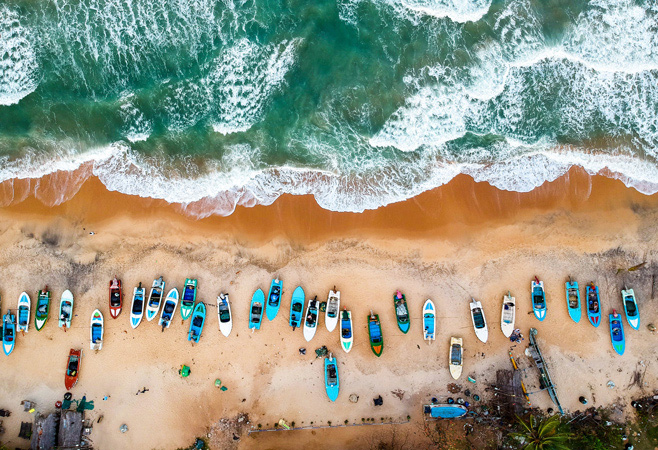 The best time of the year to travel to Sri Lanka
3. Weather in Sri Lanka in December: What makes this month special?
When planning a December vacation, the weather is typically a major factor, especially if you want to avoid winter dread and gloom. Fortunately, the weather in Sri Lanka follows a different pattern, with the monsoon season often turning into hot, dry weather by mid-December. While a few drops of rain may force you to seek shelter in the first few weeks, especially in northern locations like Jaffna and Trincomalee, the rest of the nation is normally pleasant and dry for your December tour.
What events does Sri Lanka celebrate in December?
1. Adam's peak
This is a rather important holiday for the followers of Buddhism in Sri Lanka. This holiday is considered to be the last full moon day of the year, commemorating the arrival of Princess Sangamitta Theri (she is honored for her great service to Sri Lanka when she brought back a sacred Bodhi tree from India).
2. Catholic Christmas 
Catholic communities across Sri Lanka still celebrate Christmas on December 25. Communities are concentrated mainly in the Colombo region. Western Christmas media about Christmas trees and many other traditional decorations are also widespread in this country.
Best places travelers must try when around Sri Lanka in December
1. Yala National Park
Visitors can visit and experience a variety of decorations at this park. Camping is also a good idea. The famous Safari is also an important factor that helps Yala attract a lot of attention and attention from visitors.
In addition, there is a list of 06 national parks that are worth visiting:
Kumana
Udawalawe
Horton Plains
Kaudulla
Minnreiya
Gal Oya
More details about national parks or safaris at First Safari Park in Sri Lanka open tomorrow
2. Adam - The Rock
Adam's Rock is a great pilgrimage route thanks to its topographical features. Pilgrims can watch the sunrise early in the morning as they climb to the top of the hill (it takes about 3 hours to get there).
3. Galle
Galle is a walled town that looks like a solid wall from afar. This is recognized as a UNESCO world heritage site. It was also known as a famous trading port of the area in the 17th century. The highlight that makes this place special is that there are no cars everywhere in the fortress area, so it is a great spot to explore on foot.
4. Colombo
Colombo is Sri Lanka's capital and the most significant city. Visitors can come here to see and experience the numerous components of culture and history that are now maintained in many places across the city, such as food culture, streets, architecture, and museums.
Best places travelers must try when around Sri Lanka in December
Sri Lanka Travel Places: Highlights & The 8 Top Best Destinations still offer many fantastic places to explore. Follow the Sri Lanka Weather characteristics to choose the best tourist places.
Sri Lanka's weather is a factor in the incredible diversity of this beautiful country. The weather can be the most temperate for travelers even if it is winter or summer. Hope this article has helped you understand the overview of the weather system in Sri Lanka and find yourself a suitable attraction during your trip.
Sri Lanka Immigration Services will supply you with the most dependable and timely e-Visa service so that you can travel to this culturally rich nation with ease. Contact us right once to finalize your trip arrangements.
HOW CAN WE HELP?
APPLY WITH CONFIDENCE
Safety, Fastest, Reliable, Save Time.
Secure Online Payment.
3 Working Days Guarantee.
No Hidden Fees and No Traps.
Money Back Guarantee if Declined.