Sri Lanka visa requirements for Nepali citizens: process and cost
"The pearl of the Indian Ocean" - Sri Lanka, is known as the dream place to discover beaches, cultural treasures, rich biodiversity, and hearty cooking. A long-term relationship between Sri Lanka and Nepal makes the annual tourist come to more and more.
Both Nepal and Sri Lanka are the founding members of the South Asian Association for Regional Cooperation (SAARC), so Nepalese citizens wish to travel and look for Sri Lanka Visa requirements for Nepalese citizens, now that's easier and cheaper than ever. Just take a few minutes, you'll get it!
In the article below, we will update you with information related to the Sri Lanka visa requirements Nepalese citizens topic. Let's follow along.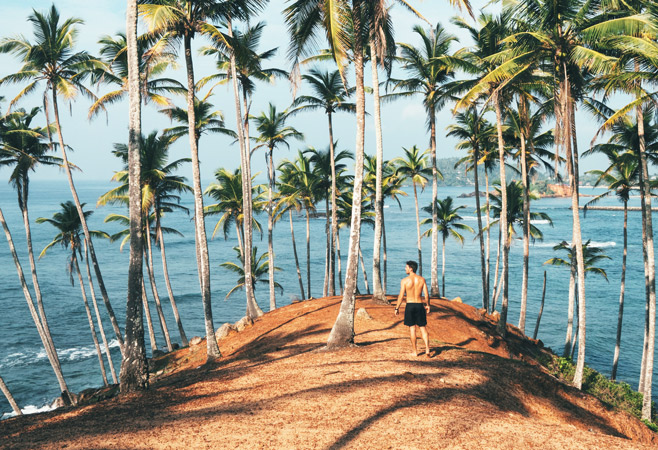 1. Do you need a Sri Lanka visa for Nepalese citizens?
Nepal is a non-visa-exempt country list of Sri Lanka, so if you are a Nepalese citizen, you have to get a visa to enter Sri Lanka. But this is better known as a visa online, which is called e-visa or ETA. Don't worry about it, how many services agencies can help you to have an ETA as soon as possible, and Sri Lanka Immigration Services will do it the fastest and the most optimal for you.
Don't go far from home to join the line in the embassy and wait many days or a week to get it, you just open your laptop/smartphone, follow the guideline below, and get ETA whenever you want.
Sri Lanka ETA visa helps you quickly to apply for a visa online, unlike the traditional visa, you have to go to the consulate to apply for a Sri Lanka immigration.
Types of Sri Lanka online visas for Nepalese citizens
There are three types of Sri Lanka Visa Online (ETAs) available for Nepalese citizens to apply for:
The Tourist e-Visa: It means Sri Lanka tourist visa for Nepalese grants once the traveler enters Sri Lanka can stay of up to 30 consecutive days with double entries in the country. The validity of this visa is 6 months from the issued date, please note your plan and have a great trip.
The Transit ETA is granted only under very specific circumstances. The traveler is not allowed to leave the airport at all. Within two days (48 hours), the traveler must have a connecting flight out of the same airport they entered. It is granted for the sole purpose of enabling a foreigner to travel through Sri Lanka to reach his ultimate destination.
The Business ETA is a type e-Visa that allows for multiple entries into Sri Lanka, provided they all take place within the first 30 days of the initial entry. With this ETA, it's available for your purposes such as investing, having a conference, or an international business meeting. NOT for employment. This validity is 6 months from the issued date.
With this important point must-have, your passports must have a minimum of 180 days of validity from the date of entry into Sri Lanka no matter what type of visa or ETA the traveler holds.
2. Way of submitting a Sri Lanka visa application from Nepal?
Nepalese passport holders can apply for a Sri Lanka visa online from Nepal easily. If use our Sri Lanka ETA service, you can get it easily by only 04 steps:
Step 1: Sign in your account in srilankavisa.lk. Submit the Sri Lanka ETA application directly at "APPLY VISA" with required information such as passport detail information, departure/arrival time.
Step 2: Pay the fee and wait for the ETA to be processed. You can pay the fee only via Visa, Master, and American Express Cards.
Step 3: Get your Sri Lanka e-Visa/ETA by checking your emails or checking the status of your visa on our website.
Step 4: Receive visa stamped into your passport.
How long is the processing time to get Sri Lanka ETA?
How processing online fast to receive depends on your package service. Each package has different benefits & convenience, the faster service, the more convenience for your trip.
Normal service: You get your ETA within 3 business days.

Urgent service: You get your ETA within 24 hours.

Super urgent service: you can receive your e-Visa within 5 business hours.
3. What about Sri Lanka ETA cost?
To get a Sri Lanka visa for Nepalese citizens, you have to pay two (02) kinds of Sri Lanka Visa fees, including a Service fee and a Government fee. The faster you need a visa online, the higher the cost you will pay.
Normal service: This is one of the most cost-effective options. It's available for your non-urgent needs & low budget. You will get an ETA within 3 business days.

Urgent service: Sri Lanka e-Visa approximately within 24 hours. The popular choice for short-prepared trips, you just submit all the required documents for it and everything already.

Super urgent service: Use this service type if Nepalese travelers have an emergency. The fastest ever you saw the best convenience for a trip.
Besides, for your amazing experienced trip, Sri Lanka Immigration Services suggests you need to have an extra package with Sri Lanka Travel Insurance to keep your benefit and reduce your risks & Sri Lanka SIM card 4G to keep in touch with your social networking and relationship as well save money for roaming data.
Don't miss our car pick up service in Sri Lanka. With only a small fee for successful registration, you will be picked up at the Airport upon arrival. Sign up today.
4. Why choose the Sri Lanka ETA service at GIS?
GIS is a leading Sri Lankan Visa service with a professional staff. Using our service, customers will have the best experience.
Safety, fastest, reliable, save time.
Secure online payment.
3 working days guarantee.
No hidden fees and no traps.
Money-back guarantee if declined
If you need more information or any assistance, feel free to contact us for help.
Read more:
HOW CAN WE HELP?
APPLY WITH CONFIDENCE
Safety, Fastest, Reliable, Save Time.
Secure Online Payment.
3 Working Days Guarantee.
No Hidden Fees and No Traps.
Money Back Guarantee if Declined.